Recipe: Springtime Tsumire-Jiru (Fish Ball Soup)
This recipe combines not only fish and fowl, but also Asian and European cuisines for a unique soup that is an ideal way to welcome springtime.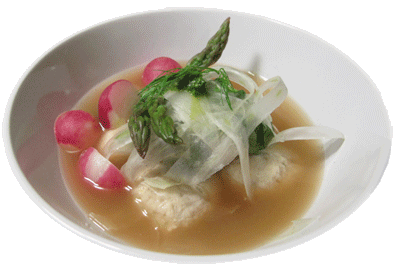 Photo by Ann Waddell
Serves 4
For the soup:
4 cups homemade chicken, duck, or goose stock (can be substituted with store-bought chicken stock)
1 star anise
1 chunk of fresh ginger, roughly a cubic inch
1 lemongrass root
1 bunch of radishes, trimmed and cut into quarters
12 stalks of asparagus, tough ends removed and cut into half crosswise
¼ bulb fennel, shaved
½ bunch of watercress
1 handful of parsley
For the fish balls:
2 lbs of whole Spanish mackerel or 1.5 lbs of Spanish mackerel (may be substituted with a comparable fish)
1 egg, white and yolk separated
3 good pinches of kosher salt
1 thumb-sized piece of fresh ginger, grated
1 tablespoon soy sauce
1 tablespoon potato starch
½ of a lemon, zested and juiced
5 turns of black pepper on a pepper mill (roughly 1 teaspoon of pepper)
For the soup:
Pour stock in a pot and add star anise, chunk of ginger, and lemongrass. Let it come to a boil then reduce to simmer. Make the fish balls (see recipe below) while the stock is simmering.
Taste the stock and season accordingly with salt and pepper. Remove the star anise, ginger, and lemongrass from the stock. Add fish balls to the stock and increase the heat. The fish balls will first sink to the bottom then float to the top. Once they float to the top, let them cook for another 1 to 2 minutes. Using a slotted spoon or tongs, remove fish balls from stock and place them into 4 individual bowls, 4 to 5 balls in each.
Add asparagus and radishes to simmering stock until the asparagus is cooked, but still has a snap to it. Remove the asparagus and radishes from the stock and arrange among the fish balls.
Wash and slice fennel and watercress. Fennel should be sliced as thinly as possible, using a mandoline or a very sharp knife. Place fennel shavings, watercress, and parsley on top of fish balls.
Bring the stock back to boil. Ladle hot stock into individual bowls until the stock almost covers the fish balls. Serve.
For the fish balls:
Filet the whole Spanish mackerel if not fileted already by the fishmonger. Debone the fish as much as possible, then scrape the meat off of the skin and bones using a spoon. The bones and skin may be saved to be used for stock in a separate dish.
Add 3 good pinches of salt to the scraped fish meat, then pulse to a paste in a food processor. This can also be accomplished by chopping the meat with two knives on a cutting board.
Separate the egg into yolk and white. Place the white into a medium bowl and whip until it forms a peak using a mixer or a whisk.
Add the fish paste, whipped egg white, grated ginger, soy sauce, egg yolk, lemon juice, lemon zest, potato starch, and pepper to the egg white. Mix with your hands. A mixer with a flat beater set at a low setting may also be used.
Once all of the ingredients have been combined and take on a springy texture, take the mixture out of the bowl and knead and pound the mixture against a cutting board about 20 times. This will improve the texture of the fish balls.
Microwave or drop a small piece of the mixture into boiling water to test for taste. Adjust flavor accordingly.
Form the paste into spheres to about the size of ping-pong balls—or small matzo balls. This should yield approximately 16 to 20 balls. These can be used immediately or frozen for future use.