Recipe: Bangkok Ceviche
In this recipe, traditional Peruvian ceviche takes on the form of a Thai bean thread salad (yum woon sen), resulting in a refreshing yet filling meal that is perfect for a hot summer day or night.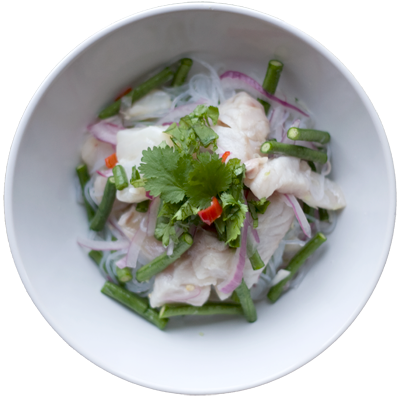 Photo by Sarah Marriage
Serves 4 as a meal; 6 as an appetizer
Ingredients:*
2 lbs. of raw seafood (Any combination of white-fleshed fish such as sea bass, red snapper, or halibut, along with scallops and/or shrimp will work. Avoid oily fish with darker flesh such as tuna, salmon, or mackerel. 1½ lbs of sea bass and a ½ lb of scallops were used to develop this recipe)
½ lb. Chinese long beans, chopped into ½- to 1-inch pieces (If Chinese long beans are not available, substitute the same quantity of haricots verts or green beans.)
3 oz. bean thread noodles (These are also known as glass noodles, clear noodles, or cellophane noodles and are typically sold in small bundles; if bean thread noodles are not available, substitute the same amount of thin rice noodles or angel hair pasta.)
1 cup lime juice (about 8 to 10 limes juiced)
3-inch piece of lemongrass
½-inch thick slice of galangal (If galangal is not available, substitute the same amount of fresh ginger)
4 large cloves of garlic, peeled
10 to 15 sprigs of cilantro, washed well, leaves separated from the stem—e.g., leaves chopped, the stems left as is (An extra sprig or two should be set aside to be added at the end for garnish.)
3 fresh bird's eye chili peppers, seeds removed, chopped finely (If bird's eye chili peppers are not available, use 1 fresh jalapeño pepper and adjust accordingly for the desired amount of heat.)
1 small red onion
4 tbsp. of fish sauce
Salt and pepper to taste
Instructions:
Place the lemongrass, galangal, garlic, stems of the cilantro, and the lime juice in a small bowl. Cover and refrigerate.
Remove all bones and skin from the fish. Remove shell from shrimp and devein. Chop the fish and scallops into bite-sized chunks. Place in a large non-reactive bowl, cover and refrigerate immediately.
Prepare noodles as instructed on the package, or soak in boiling water for 7 to 10 minutes. Check for tenderness. Drain and rinse in cold water. Ensure that noodles are tender, but not waterlogged. Set aside.
Fill a medium pot half-full of water and bring to a boil. While the water is heating, prepare a large bowl filled with ice water. Once the water comes to a boil, blanch the chopped beans for 1 to 2 minutes or until the beans lose their raw taste, but are still crunchy. Quickly drain the beans and shock them in the ice water until they are thoroughly chilled. Drain well and set aside.
Chop the onion into quarters and slice as thinly as possible using a mandoline or a very sharp knife. Set aside.
Bring the lime juice out of the refrigerator and remove the lemongrass, galangal, garlic, and the cilantro stems from the lime juice. Discard the cilantro stems. Chop the lemongrass and the garlic, and finely grate the galangal. Return them to the lime juice. Add the fish sauce and the chopped chili peppers to the lime juice and combine.
Remove the seafood from the refrigerator. Salt it with two good pinches of kosher salt.
Set a timer for 10 minutes. Pour the lime juice into the non-reactive bowl that contains the seafood and stir to combine. Stir occasionally for the next 10 minutes. The acid will denature the proteins in the fish, in effect "cooking" it: the fish will change it from translucent and soft in texture to opaque and firm. This is a very quick process, so be ready to eat before combining the fish with the lime juice. The fish will start breaking up after 15 to 20 minutes in the lime juice.
At the 10-minute mark, add cooked noodles, long beans, red onions, and the chopped cilantro leaves to the seafood mixture. Stir until everything is well combined.
Add salt and pepper to the mixture to taste, and additional cilantro sprigs for garnish. Serve immediately. If there are leftovers, strain the lime juice from the ceviche and refrigerate separately for up to two days.
*Most of the Thai ingredients listed here may be found in any Chinatown or Asian grocery store. Bangkok Center Grocery on Mosco Street in Manhattan's Chinatown is highly recommended for these ingredients. However, if Asian groceries are not readily available, substitutions may be made with ingredients found in the local grocery store. Fish sauce, however, is an essential ingredient for this dish. Without it, this ceviche will not have the distinct Thai flavor that distinguishes it from a traditional Peruvian ceviche.