Shakshuka is a dish that consists of a baked egg nestled in spicy tomato sauce, much loved in Mediterranean countries such as Tunisia, Israel, and Morocco.
Oyako-don is a popular dish in Japan that brings together what is called an oyako, or parent-child combination, usually chicken and egg. Together, they are simmered in a savory sauce that is served over white rice in a donburi (bowl).
The following recipe combines the best of the two cuisines into a comforting bowl that celebrates the circle of life.
Recipe: Shakshuka Oyako-Don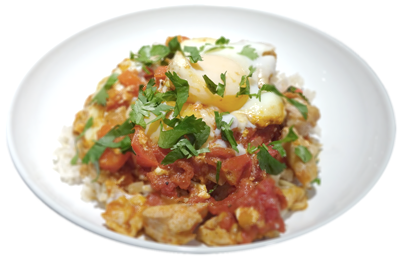 Photo by Sarah Marriage
Serves 4
Ingredients:
For the rice:
1 cup basmati rice
1 tablespoon olive oil
1 small onion, diced
3 cloves of garlic, minced
1 teaspoon cinnamon
1 teaspoon salt
╝ cup sliced almonds
For the topping:
1 small onion diced
3 cloves of garlic, minced
1 medium sized red bell pepper, diced
1 tablespoon olive oil
1 28-oz can of whole tomato, unseasoned, smashed with hands
4 chicken thighs, deboned and chopped
8 eggs
2 teaspoon cumin
1 teaspoon paprika (hot or sweet)
1 teaspoon cayenne (optional)
1 teaspoon harissa
Salt and pepper to taste
Sprigs of cilantro for garnish
Instructions:
Place a medium-sized pot on medium heat and add olive oil. Add the onion, garlic, and salt to the pan and saute until fragrant. Add the basmati rice and the cinnamon to the pot and stir until well combined.
Follow instructions for the rice as provided. Or add 2 cups of water to the pot, bring to a boil then simmer with the lid on for 15-20 minutes or until tender. A rice cooker may also be used.
Place a large pan on medium heat and add olive oil. Add the onion and garlic to the pan and sautÚ until fragrant. Add cumin, paprika, cayenne, harissa, salt, and pepper to the mixture and continue sauteing until fragrant. Add red bell peppers to the pan and continue stirring until everything is thoroughly combined.
Add the tomatoes to the mixture, bring to a boil, then simmer. Let simmer uncovered to thicken the sauce for about 5-10 minutes, stirring occasionally. Check to make sure that the red bell pepper is no longer crunchy.
Salt the chopped chicken thighs liberally and rub the salt in well.
Bring the heat up to medium, add the chopped chicken to the sauce, and stir.
As the chicken cooks in the sauce, bring a separate small pan to medium heat and add the sliced almonds. Stir and toast the almonds until fragrant. Fold the almonds into the rice whenever the rice is finished.
Once the chicken is cooked through, gently crack open and nestle eggs on top of the sauce without overlap. Cover the pan until the eggs set and are cooked to a desired consistency.
Serve the rice individually and pour two eggs and the sauce over rice. Serve with cilantro and hot sauce.